Rally of survivors of sexual abuse by Maryland Catholic Church leaders held August 2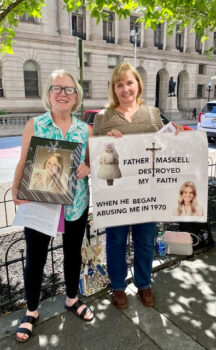 Tuesday's Baltimore press conference to demand Attorney General Frosh release the report on institutional child sexual abuse had a good turnout, covered by WMAR, WJZ, WTOP-DC, The Balto. Sun paper, MD Matters & others. Thanks to everyone who supports me and all victims/survivors of child sexual abuse. Your support helps make this kind of movement happen!!
Jean Wehner
Church abuse survivors plead for answers amid probe (msn.com)
MSN link to National ABC News report.
Maryland's clergy sex abuse investigation lacks results, survivors say
MarylandMatters.org